LEARN TO USE FOOD AS MEDICINE AS A HEALING TOOL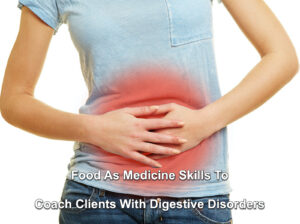 USING FOOD AS MEDICINE SKILLS TO COACH CLIENTS WITH DIGESTIVE DISORDERS

The first client I ever coached with ulcerative colitis (UC) was an outpatient at the prestigious Mount Sinai Hospital in Los Angeles. In spite of it's stellar reputation, it was no better at treating ulcerative colitis than the hospitals in the story I am going to share with you.
My client, living in a small town in the South, had recently been diagnosed with ulcerative colitis. Her daughter had been taking her to the family doctor for years. Western medicine is overall pretty clueless when it comes to any bowel problems. So each time they would send her home with advice to drink over the counter Metamucil for constipation and hope for the best. As the conditioned worsened, she was finally admitted to her small town hospital. Because the environment present to support UC can lead to cancer, their advice was to operate, pull the large colon (just in case), and attach the small colon to the anus. This is called an abdominal colectomy.
The heartbreaking risks of this operation are:
> pelvic abscesses
> blood clots in the legs and lungs
> internal bleeding
> scar tissue
> nerve damage
> diarrhea, constipation, excess gas
> may need more surgeries
Fortunately, the small Southern hospital did not have the surgeon needed to pull the colon, and, after waiting days for a bed in a larger city hospital, she was finally transferred. Following a barrage of tests, luckily, pulling the colon was ruled out. After this long ordeal, she was discharged with no new help on how to address the ulcerative colitis, because Western medicine considers UC a "manageable condition" with "no cure"…..
AN ALTERNATIVE HEALTH COACH HAS A POLAR OPPOSITE APPROACH
This is where I came in. You may think, "Wow, this is a problem for the 'big guns'; how can Holistic Health Coaching help?" ortunately, alternative health coaching has a polar opposite approach to ulcerative colitis, and it's all very hopeful.
Ulcerative Colitis is 100% diet related; the root cause being the man-made Standard American Diet that is very inflammatory and constipating, leaving our population with a boat load of digestive problems. Years of chronic constipation creates conditions for ulcers to form. Addressing the chronic constipation, introducing foods that re-populate the gut with friendly bacteria, addressing dehydration, and adding colon hydrotherapy, gives the colon a chance to heal over time.
FIVE SUGGESTIONS I COVER WHEN COACHING THIS CONDITION
> ONE: For most people recovering from UC, roughage from salads and other raw veggies are too intense in the beginning of their healing journey. So we start by upgrading their diet with raw calming foods, such as fresh nut milks and smoothies, creamy gentle fruits like avocados and bananas, as well as raw honey.
> TWO: Add miso soup to the diet daily. When I say miso soup, I don't mean that puny bowl of powdered MSG flavored liquid you get in a Japanese restaurant before dinner. True unpasteurized Miso Soup contains a probiotic called A.oryzae, which has been found to reduce the risk of inflammatory bowel disease and other problems within the digestive system. My "Many Miracles Miso Soup" is colon soothing and rebalances the gut, encouraging the re-population of friendly bacteria.
(Find the recipe in my e-book Diet For Living Cancer Free/What Worked For Me on Amazon HERE)
> THREE: Fresh aloe vera contains 7 key enzymes which enhance nutrient absorption and helps the breakdown of food. Fresh juice made from the inside of the aloe vera stalk also keeps gut bacteria in balance and helps with constipation. (Note: Not all aloe is edible. In class we will share how to eat it, how much to eat and where to purchase it.)
> FOUR: Help them locate a seasoned colon hydrotherapist that has experience working with ulcerative colitis. One that introduces herbs like marshmallow and slippery elm that will soothe the inflamed colon while addressing hydration and chronic constipation.
> FIVE: Wheat, meat, dairy, and sugar are extremely inflammatory to the human digestive track. Create a personal diet for the client that consists of plant-based foods that are anti-inflammatory (covered in depth in class).
DISCOVER A BETTER PATH FORWARD FOR YOUR CLIENTS: LEARN HOW TO APPLY FOOD AS MEDICINE AS A HEALING TOOL
Today's modern diet has all the components for reeking havoc on the body. People are confused and seeking solid solutions. We as Health Coaches are asked to be fully trained in the common chronic health conditions brought on by the Standard American Diet and give our clients tools and training to guide them back to health.
If you are called to Coaching, I invite you to take our New Year's 2023 Food As Medicine Training. The course is informative, results oriented, and will leave you with the skills and confidence needed to grow your practice. If you're looking for an education that gives you a strong foundation in science backed Food As Medicine, then Diet For Living School is for you….
___________________________________________________
 ___________________________________________________
OUR 3 DAY POP-UP SALE!
GET $500 OFF OUR 100% ONLINE
NEW YEAR'S 2023 TRAINING!
LEARN TO USE FOOD AS MEDICINE AS A HEALING TOOL
If you are seeking a career that:
> Impacts every area of your life.
> Guarantees your personal growth.
> Connects you to an incredible community that inspires you.
> Pays well, feels fulfilling, and makes a meaningful difference.
SIGN-UP NOW for our Training and get $500 off the complete price….Have your new business up and running in the New Year!
TAKE ADVANTAGE OF OUR EARLY BIRD SALE AND GET THESE FREE GIFTS WHEN YOU REGISTER. YAY! WE ALL LOVE GIFTS!
> FREE!: An e-book copy of Diet For Living Disease Free/ The New Frontier Of Healing sent straight to your inbox when you register for class.
> FREE! A 30 minute Business Planning Consultation with Paula Diana.
> 30% OFF The Total Price Of Your Tuition!!!!  WOW, Right?
ONE MORE THING: Diet For Living School is Board Certified by the globally recognized American Association Of Drugless Practitioners. This means that upon graduation you can apply for further certification from the AADP if you choose.
A $300 Deposit Will Assure That You Receive The Training That Will Change Your Life.
You Do Not Want To Miss Out On Getting A Spot!
___________________________________________________
 ___________________________________________________
Our Diet For Living School Offers The Best Certified Holistic Health Coach/ Cancer Coach Program, giving you the strong foundation you need to take your place in the alternative health movement.
If you long to learn a new way to live while becoming a powerful, inspiring educator that transforms the lives of others, I invite you to visit our web page and see what we teach ASAP.
___________________________________________________
___________________________________________________
 
BECOME A COACH AND EDUCATOR THAT SHAPES A HEALTHIER, HAPPIER WORLD FOR YOURSELF, YOUR FAMILY, AND YOUR COMMUNITY….
See for yourself why, for over 12 years,
students from all over the world have attended our trainings.
Find Out More Here: http://bit.ly/DFLDualCoachingCertifications
SignUp For Our Newsletter Here: http://bit.ly/DFLS_NEWSLETTER
Call us at 505-243-1157.  We Would Love To Hear From You